About Us
OUR BACKGROUND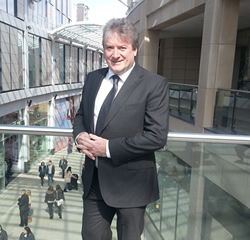 Stephen Fennell (Director) spent 28 years with H M Customs & Excise where he was a Vat Specialist for some of the largest Companies/Businesses in the Country.
As the Departments designated officer for these multi national businesses he was responsible for ensuring that £ Billions of Tax was accounted for correctly and that these businesses received a 'world class' professional service from the Department.
His skills as both a Classroom & Practical Trainer helped enhance his technical abilities and he has delivered training events/seminars at locations throughout the UK. Latterly, Stephen specialised in the Retail Sector working in the Departments Centre of Operational Expertise for Retail at the same time as having the control and day to day responsibility for both ASDA & WmMorrison Supermarket chains.
It was Stephen's reputation and experience working in the Department which prompted Wm Morrison Supermarkets plc to seek his services and appoint him as their Group Indirect Tax Manager. This role had wide ranging responsibilities covering all aspects of Indirect Taxation and he successfully managed the integration of Safeways Vat Group and its associated businesses into Morrisons.
His professionalism & people skills shone through and he was asked to undertake several large projects by the Board of Morrisons which included reorganising large departments, accounting systems & processes.
After 3 successful years at Morrisons Stephen set up his own business (SEF Vat Consultants) initially as a sole proprietor but then expanding and developing into SEF Vat & Indirect Tax Consultants Ltd (SEF).
Stephen now 'heads up' a team of consultants (situated in the north of England, London, Midlands and the South West) who between them have over a 100 years worth of experience working for H M Revenue & Customs coupled with extensive experience working for Tax Practices in the Private Sector.
This combined 'Wealth of Experience' makes us a formidable team with an intimate knowledge of Vat legislation across ALL Trade Sectors plus a comprehensive appreciation of HMRC working practices.
EXPERIENCE
With our extensive and collective experience SEF prides itself in being able to provide comprehensive assistance across all Trade Sectors and to illustrate this what follows is a list of Vat issues we have been actively involved and successfully concluded on behalf of our clients over this last 12 months:
Assisted client to reclaim Vat incurred in other EU countries
Assisted client to reclaim Vat back incurred in non EU country (Norwegian Vat)
Assisted Spanish company in pursuit of a UK Vat claim
Represented client in a dispute with HMRC regarding 'Evidence of Export'
Undertook Partial Exemption calculations for a regular client
Regular liaison with HMRC Options to Tax team electing to 'Waive Exemption' for numerous clients
Capital Goods Scheme (CGS) calculations submitted to & approved by HMRC
Car Industry issues taken up with HMRC
Building/Construction industry – liability issues assistance with Zero Rating & Reduced Rating Certificates
Administration matters with HMRC including Registration, Deregistration and Variations of client particulars in the Vat Register (change of legal Entity etc)
Distance Selling/Sales Appeals to various Tax Authorities in the EU and
Provide regular assistance/support to a Housing Association with its complex Tax regime
Consultation
If you would like us to contact you, please fill out the form below and we will be in touch.
Client Testimonials
"Stephen made an immediate impact by adopting a structured professional approach to his work and went about his tasks with energy & enthusiasm."
Peter Haste
Senior Finance Manager, Profit Recovery

Wm Morrison Supermarkets PLC
"Stephen improved performance by introducing new management control checks, better working practices, training programmes and made personnel more responsible / accountable by drawing up individual job specs."
Peter Haste
Senior Finance Manager, Profit Recovery

Wm Morrison Supermarkets PLC
"Since 2007 we have called upon SEF to assist us with numerous VAT problems / issues both at home and across the EU (EU & non EU Countries). During this time they have negotiated with HMRC (on our behalf) and obtained written rulings which confirmed their initial advice regarding various scenarios involving our company."
Jim Reid
Finance Director

Altavia HTT Limited
"In all our dealings with SEF we have been provided with a professional and reliable service and value them as a very credible resource."
Jim Reid
Finance Director

Altavia HTT Limited
"VAT is a major cost to Housing Associations and so it is essential that we have good control and advice over its application and administration. This is why we engage SEF Vat & Indirect Tax Consultants Ltd. Their approach of working with us enables us to get the best solutions for our customers."
David M Royston FCA
Head of Finance (Corporate)

Accent Group Limited